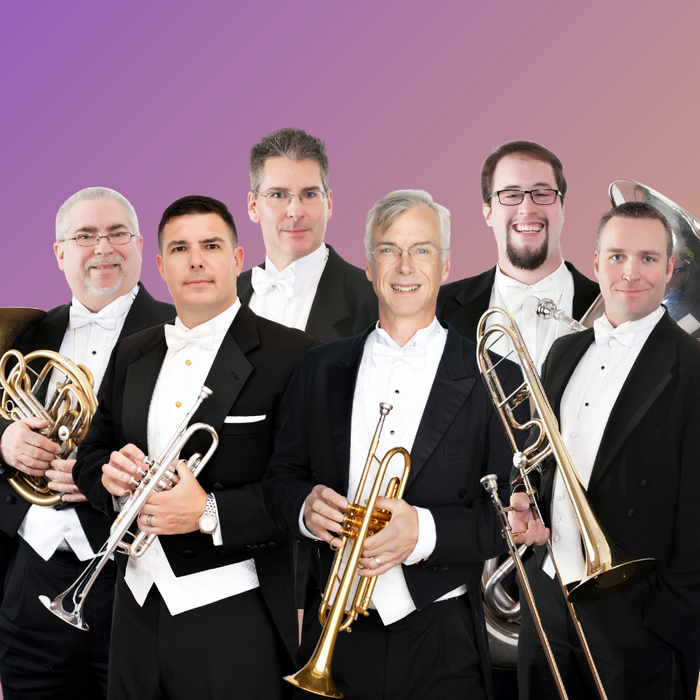 Family Concert: All Brass
Enjoy a special performance just for kids and families featuring members of the DMSO brass section! You'll hear fun and exciting songs, experience instrument demonstrations, and much more. Join Des Moines Symphony musicians Andrew Bishop, Principal Trumpet; Andy Classen, Trumpet; Charles Harris, Horn; Casey Maday, Principal Trombone; Ravil "Bo" Atlas, Principal Tuba; and Thomas Mackey, Percussion for a fun and exciting hour of music. 
RSVP for the Facebook event to be notified when we go live. Watch the concert on our Facebook and YouTube pages, or right on our website! The link will go live at 4PM on Sunday, April 25.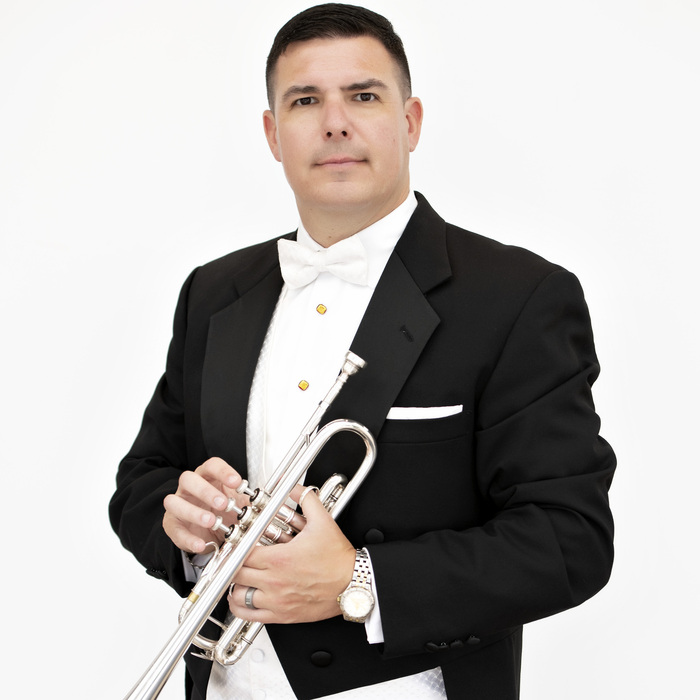 Andrew Bishop
Principal Trumpet
Kansas City based trumpet player Andrew Bishop has enjoyed a successful and diverse career throughout the Midwest and Colorado front range area. In the spring of 2019, Andrew won the Principal Trumpet chair with the Des Moines Symphony.
Andrew was born and raised in Lindsborg, KS, known as "Little Sweden U.S.A." He cultivated his musical endeavors under Lindsborg's extraordinary support of the fine arts and strong musical traditions. During his youth, he performed in the Bethany Oratorio Society's production of Handel's Messiah and studied trumpet with Roger Thorstenberg. He studied trumpet performance at Wichita State University, where his primary instructors were Les Linn, Bob Grim and John Hagstrom. He also holds a Masters degree in trumpet performance from the University of Missouri.
During his academic studies, Andrew was a winner of the Wichita State University Concerto/Aria Competition and performed the Tartini Concerto in D with the WSU Symphony. He won the 2004 University of Missouri Concerto Competition and performed the J.F. Fasch Concerto in D for Trumpet, 2 Oboes, Strings and Continuo with the University Philharmonic. He was a recipient of the MU Emerging Artist Award, and appeared as a featured soloist with the University of Missouri Trumpet Ensemble at the 2004 International Trumpet Guild convention in Denver, CO, performing the Concerto in E-flat by G.H. Stölzel.
In 2010, Andrew won the Principal Trumpet chair with the Fort Collins Symphony, performing to acclaim Bach's Brandenburg Concerto No. 2 on his first Masterworks Concert. He was granted full tenure after his first full season in 2011, and went on to appear with FCS as a featured Guest Artist performing Haydn's Trumpet Concerto in E-flat.
While in Colorado, Andrew was also Principal Trumpet with the Colorado Bach Ensemble, Opera Fort Collins and Canyon Concert Ballet. He has also appeared regularly with the Colorado Symphony Orchestra, Colorado Ballet Orchestra, Colorado Music Festival Orchestra, Boulder Philharmonic, Greeley Philharmonic, Pro Musica Colorado and Cheyenne Symphony. As a chamber player, Andrew is Co-Principal Trumpet with the Apollo Chamber Brass, as well as a member of the Boulder Brass. He has also appeared with the Denver Brass, Epic Brass Quintet, Wichita Brass Quintet and the University of Missouri Faculty Brass Quintet. He has been a trumpet lecturer at the University of Northern Colorado and is also in demand as a featured soloist and clinician.
Andrew enjoys spending free time arranging music for trumpet, brass quintet and large brass ensemble. He is a three-time World Champion (self-given title) Cribbage player. He also has an affinity for the game of baseball, and faithfully carries on the Bishop family tradition of being loyal St. Louis Cardinals fans.
In addition to his position with the Des Moines Symphony, since relocating to Kansas City, he has performed with the Kansas City Symphony and Wichita Symphony Orchestra. He lives in Olathe, KS with his wife Jillian, and their Puggles, Bella and Matai.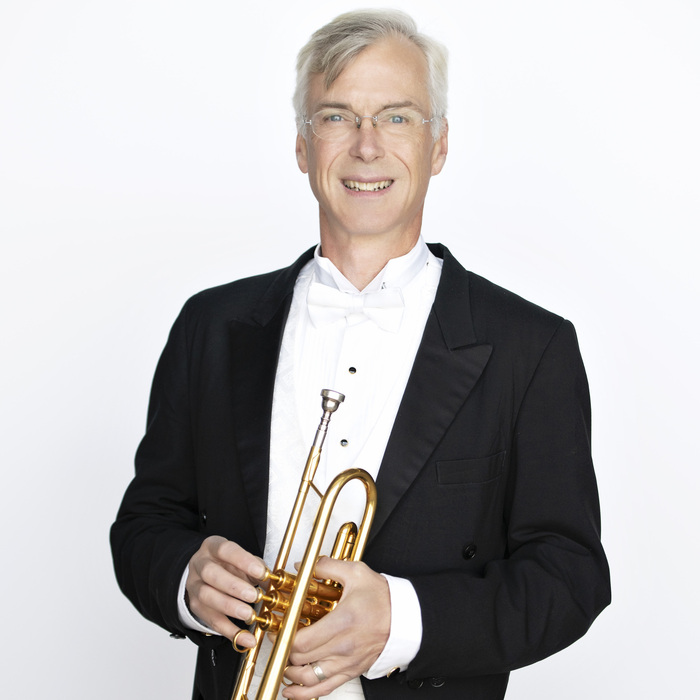 Andrew Classen
Trumpet
Andrew Classen is professor of trumpet and jazz studies at Drake University. He is currently second trumpet with the Des Moines Symphony and principal trumpet with Orchestra Iowa. He has played in many of the Willis Broadway Series shows including: Wicked, Spamalot, Book of Mormon, Hairspray, Annie, Little Shop of Horrors, The Producers, Chicago (solo trumpet), The Full Monty, 42nd Street, and Thoroughly Modern Millie.
He often works as a clinician and guest artist for recitals, masterclasses and seminars, regionally, nationally and internationally. He has performed in China, Mexico, England and much of continental Europe. His classical trumpet album, It's About Time, is available through Amazon or the iTunes store.
He is the leader of the Turner Center Jazz Orchestra, which just released their first album, Class 'n Jazz: The Music of Andy Classen. His is also an active jazz composer. He currently has six compositions published through C.L. Barnhouse Publishing.
He received a Bachelor in Music Education degree from the University of Wisconsin Eau-Claire and a Master of Music degree in trumpet performance from the University of Tennessee. His principal trumpet teachers were Vincent Cichowicz at Northwestern University, William Adam at Indiana University, Robert Baca at the University of Wisconsin Eau-Claire and Cathy Leach at the University of Tennessee.
Andrew Classen became the inaugural holder of the Fred and Patty Turner Professorship in Jazz, thanks to a $1 million gift from Drake alumnus Fred Turner. Mr. Turner noted, "I am delighted to have the opportunity to support the future generations of musicians who will keep this art form alive. Creating a jazz professorship at my alma mater is a perfect fit. This is my own way of making sure the music plays on.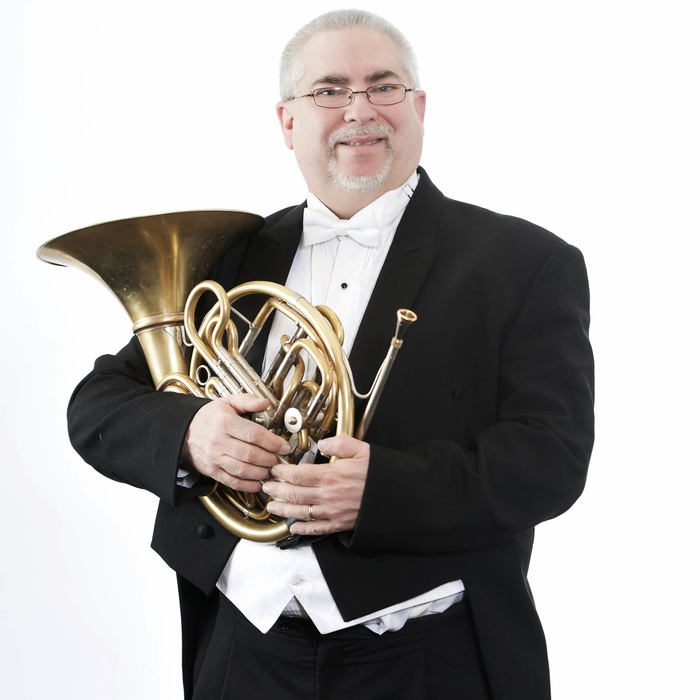 Charles Harris
Horn
Horn Charles Harris (Andy) joined the Des Moines Symphony in 1997, serving as Assistant Principal Horn until winning the third horn position in 1999. This is the second time he has been a member of this organization. Charles and Des Moines Symphony Orchestra Principal Hornist, Bret Seebeck won positions at the same audition in 1989! Mr. Harris moved to Iowa in 1995 to join Orchestra Iowa, as a second horn. In 1996 he moved to the third horn position and has served as principal horn since 1998. He also performs with the Orchestra Iowa brass and woodwind quintets, as well as the Cedar Rapids Opera Theatre, and the Cedar Rapids Municipal Band. In 2011 he co-founded the Coe College Faculty Brass.
Andy has performed as a soloist throughout his career, including 1979 as featured soloist with the Jefferson City Symphony Orchestra, 1984 as winner of the Liberty Symphony Young Artists Competition, 1988 with the University of Missouri Symphony Orchestra, a 1992 subscription concert with the Monterrey (Mexico) Symphony and most recently with Orchestra Iowa in 2016. He has also held positions in the St. Louis Symphony Youth Orchestra (including their tour of Europe in 1983), the Savannah Symphony Orchestra, the Albany (GA) Symphony Orchestra, the Fort Smith Symphony, and the Missouri Symphony (formerly MOSSPAC).
He feels incredibly blessed to have had opportunities to perform with some of the most distinguished and interesting artists in recent memory. Including Ray Charles, Marilyn Horne, Roberto Clemente, Montserrat Caballé, Paul Robeson, Simon Estes, Yo Yo Ma, Izhak Perlman, and Manheim Steamroller. Originally from Fulton, Missouri, Andy has spent the majority of his career here in the Midwest. Music has subsequently allowed him to travel, live, and perform many places around the country and world, even living in Mexico for a year as a performer/teacher.
He teaches horn at Coe, Wartburg, and Kirkwood Colleges, and the Orchestra Iowa Symphony School. Filling out his "free time" he also works for a local Target store. He says, "I have a hard time answering people when they ask me what I do for my 'Real Job.' I have such fun doing all of it, that I sometimes don't believe that I have a typical 'Real Job.' I like my work, and I love my music!"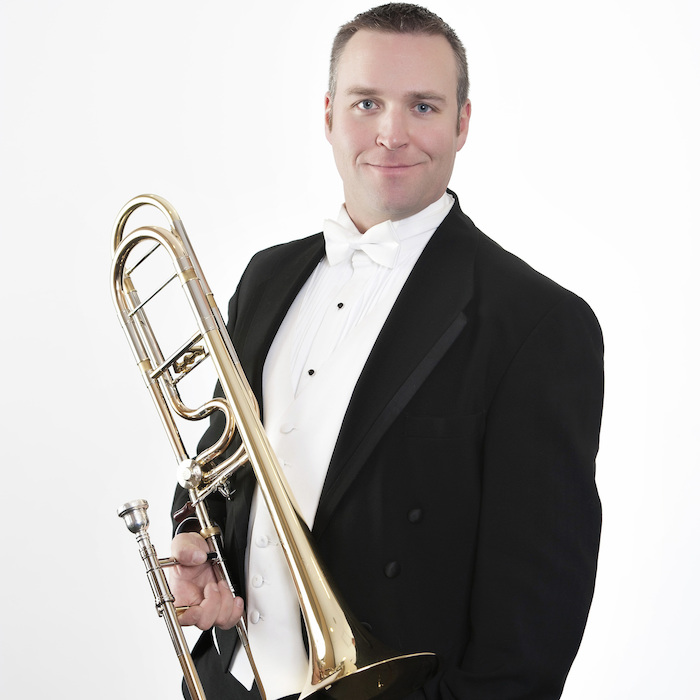 Casey Maday
Principal Trombone
Trombonist Casey Maday grew up in the small town of Antioch, IL and now is Principal Trombonist with the Des Moines Symphony Orchestra. Before moving to Jacksonville Florida in June of 2018 he was the premier trombonist of Iowa holding tenured positions as Principal Trombone of Des Moines Symphony Orchestra, Orchestra Iowa, and the Waterloo Cedar Falls Symphony Orchestra, as well as substitute Principal Trombone for the Quad Cities Symphony. As an active performer, he has worked with ensembles such as the Minnesota Orchestra, Nashville Symphony, Sarasota Orchestra, the Florida Orchestra, Jacksonville Symphony, Sarasota Opera, Monterrey Symphony Orchestra of Mexico, Omaha Symphony, Dayton Philharmonic, and many others. You can also regularly hear him performing for touring Broadway shows in the orchestra pit of the Civic Center in Des Moines, Iowa. Recent performances include: Mean Girls, Aladdin, Sound of Music, Evita, Pippin, Cinderella, Lion King, Newsies, Book of Mormon, Beautiful, and more.
In March 2016, Mr. Maday performed the Concertino by Ferdinand David as well as Blue Bells of Scotland by Arthur Pryor with the Fort Dodge Symphony Orchestra. Mr. Maday can be heard on the DVDs Symphony in Sculpture and Symphony in Sculpture II with the Des Moines Symphony Orchestra, as well as The Power of Music DVD with Ethan Bortnick, Damian McGinty, and Jane Monheit.
He resides in Jacksonville with his wife Dr. Erin Bodnar.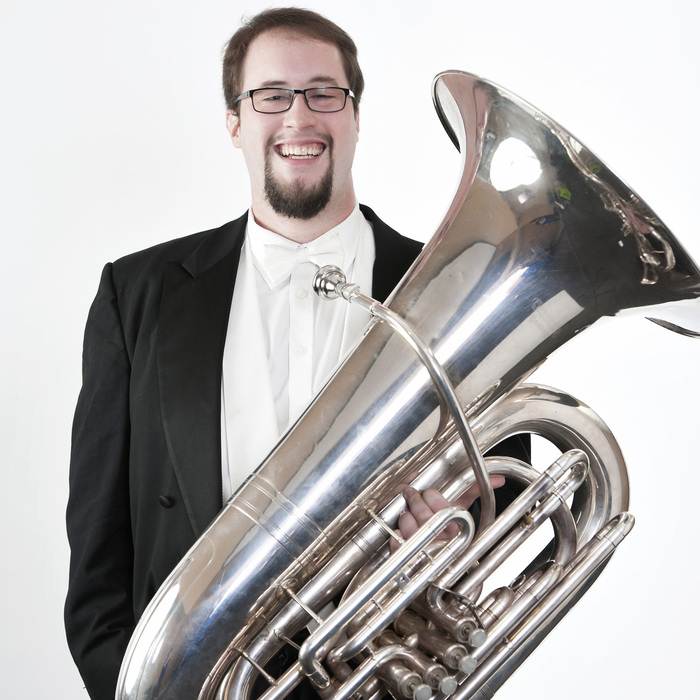 Ravil 'Bo' Atlas
Principal Tuba
Ravil "Bo" Atlas is Principal Tubist with the Des Moines Symphony.
He served as Principal Tubist with the Topeka Symphony Orchestra for three seasons while finishing his Bachelor of Music degree at the University of Kansas. He has also been active as a freelance musician performing with groups such as the Lincoln Symphony, Kansas City Symphony, Kansas Brass Quintet, Blackhouse Improviser's Collective, Kansas City Brassworks, and the Fountain City Brass Band.
An avid supporter of new music, Mr. Atlas commissioned a new work  "Hybrid Entities" by composer Ben McMillan, and has been a member of the North American Tuba Repertoire Initiative for multiple years. Mr. Atlas, himself a burgeoning composer, has had multiple performances of his tuba ensemble works "Remembrance," "Finding the Silver Lining," and the Bass Trombone solo "Soliloquy."
Bo is a much sought after soloist and has received many accolades for his solo work including Semi-finalist at the International Tuba Euphonium Conference in 2010, Finalist at the Arapahoe Philharmonic Concerto Competition in 2011, winner of the University of Kansas Symphony Concerto Competition in 2012, winner of the Great Plains Regional Tuba Conference solo competition in 2009, and winner of the US Army Band Mock Audition in 2012.
Bo has studied tuba with Craig Fuller, Scott Watson, Patrick Stuckemeyer, Tony Clements, Peter Warhaftig, Sam Pilafian, and Christian Carichner.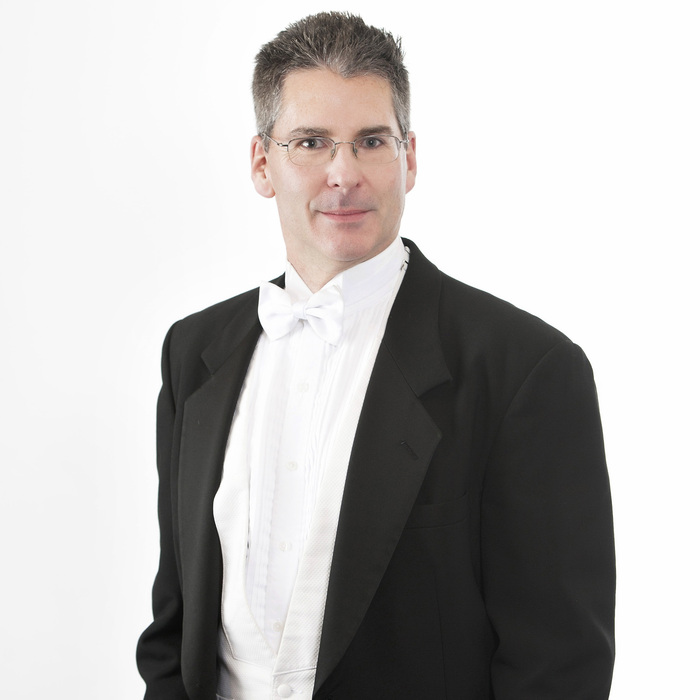 Thomas Mackey
Percussion
Born in Washington D.C. and raised in Maryland and Illinois, Tom joined the Des Moines Symphony as a percussionist in 2000.  Tom began playing percussion in 1976 at the age of 9 with the encouragement of his mom, who was an elementary school music teacher and dad, who was a Major in the U.S. Army and worked for the National Security Agency.  Tom earned a Bachelor of Music from Illinois Wesleyan University and a Master of Music from the New England Conservatory of Music where he studied with Frank Epstein of the Boston Symphony Orchestra.  While in graduate school, Tom performed with the Boston Philharmonic and spent summers at the Aspen Music Festival in Colorado where he studied with Tom Stubbs of the St. Louis Symphony.  After living in the cold Northeast for a few years, Tom was offered and accepted a job as a cruise ship drummer based out of Miami just before moving back to the Midwest.  Since moving to Iowa, he has performed with the Omaha, Quad City and Peoria Symphonies in addition to his duties with the Des Moines Symphony.  Tom is also a member of Orchestra Iowa in Cedar Rapids where he has been Principal Percussionist since 1992.