DMSO Principal Percussionist Aaron Williams is featured as soloist on our upcoming Live from the Temple Concert Dance, Rhythm, & Blues. Get to know Aaron - then watch him perform the Milhaud Concerto for Percussion on January 21!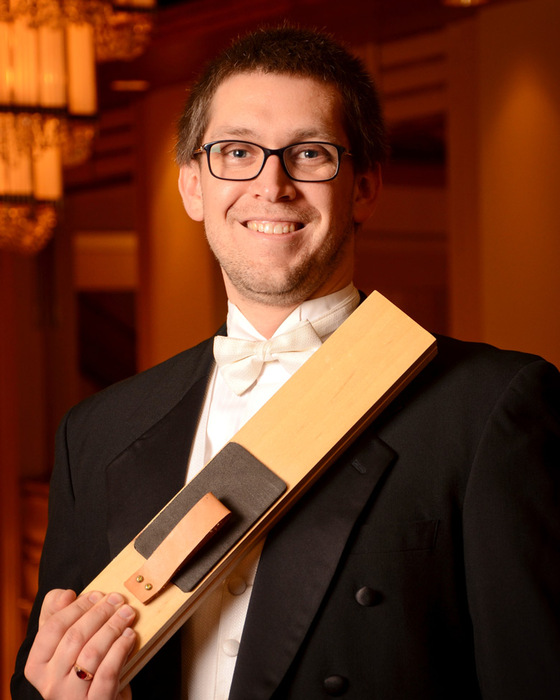 As a member of both the Des Moines Symphony Orchestra and its administrative staff, Aaron Williams is particularly familiar with the music industry. His first encounter with music came from watching the 80s cartoon Alvin and the Chipmunks. He was hooked on all of the singing and harmonizing. Back then, he could even sing along in the same octave! From junior high, Aaron knew he wanted to make a living playing percussion. After sixth grade, he quit playing baseball, started going to music camps every summer, and began taking private lessons with a second percussion teacher. He has been at it ever since.
Aaron spent his first summer at Interlochen Arts Camp when he was sixteen. In that summer, he got to play Carmina Burana for the very first time. As a teenager, this was his ultimate symphonic work and he was thrilled at the opportunity to play the timpani part – the first thing you hear in Carmina Burana before the choir comes in. He says, "I will never forget the energy, excitement, and pure elation I felt in that performance. And to this day, I still feel that sixteen-year-old exuberance when I get to perform Carmina."
At any orchestra, the Director of Operations oversees the on-stage and backstage logistics for every rehearsal and concert. Depending on the organization, the responsibilities can also include overseeing orchestra personnel, overseeing guest artists, organizing tours, organizing musician auditions, producing outdoor concerts, and much more. Like the rest of the Symphony's administrative staff, Aaron has certainly had to make some adjustments as we launched our Live from the Temple concert series!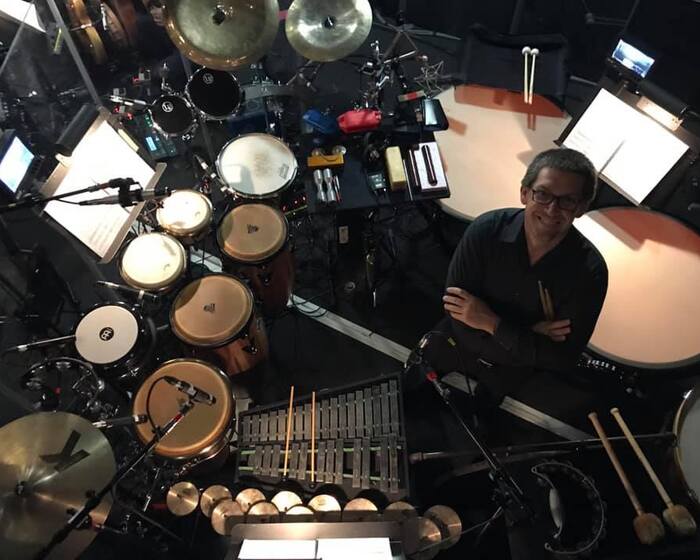 Aaron's first season with the DMSO was 2010-2011; a season in which Maestro Giunta had programmed Ravel's Bolero. It was also Aaron's first time playing the piece's signature solo snare drum part. At one particularly memorable rehearsal, Maestro Giunta decided to place the snare drum at the very front of the stage, in front of the First Violins. Aaron was terrified, but it's definitely a moment he'll never forget.
Aaron typically begins focusing his practice towards a specific concert two weeks out from a Des Moines Symphony performance (one week out from the rehearsals). During that time, he practices his parts, listens to the music in order to get reacquainted, and plays along with different recordings of the piece. If he has a particularly challenging or exposed solo part in a concert, he begins working on it three or four weeks ahead of the performance. Over the course of last year as his performance schedule has lightened, Aaron's practice routine has shifted towards general maintenance and working on solo pieces for his own enjoyment.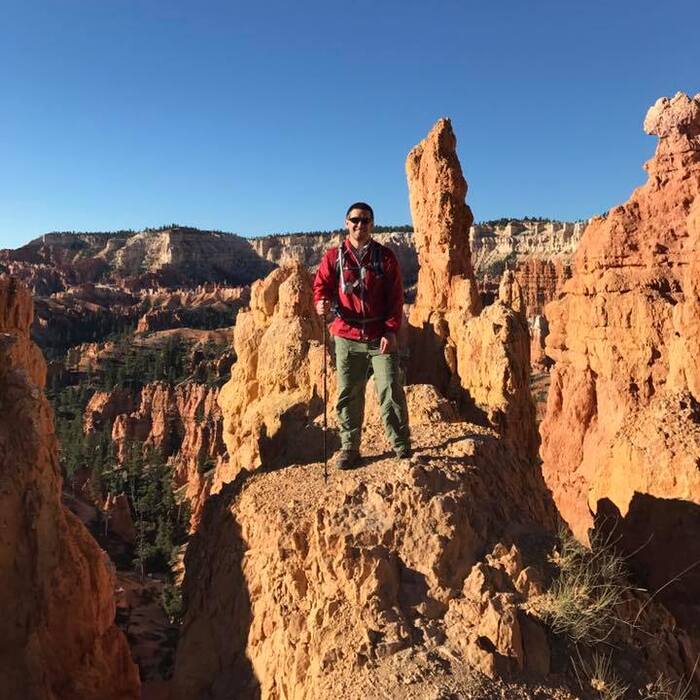 During the launch of our Live from the Temple series, Aaron has been focused on logistics as Director of Operations, and has not performed in any of the fall 2020 concerts. He is excited to play his first performance with the Des Moines Symphony this season in Dance, Rhythm, & Blues. Because the pieces being performed are for mixed-instrumentation groups of fewer than ten players, Aaron's biggest challenge will be performing multi-percussion parts and on drum set, which he doesn't get to do often with the full orchestra.
Aaron also frequently plays in the pit of touring Broadway shows at the Civic Center, which he says really keeps him on his toes as a performer. Playing in the percussion section with the full orchestra and playing in the pit for a Broadway show are very different experiences, each with their own unique demands. When playing in the pit, Aaron is responsible for playing every single percussion instrument in the score. "I usually end up surrounded, and I mean that literally, by no fewer than 20 different instruments. It's very constant playing, moving rapidly from one instrument to the next. Navigating my way from instrument to instrument is easily the biggest challenge of pit work."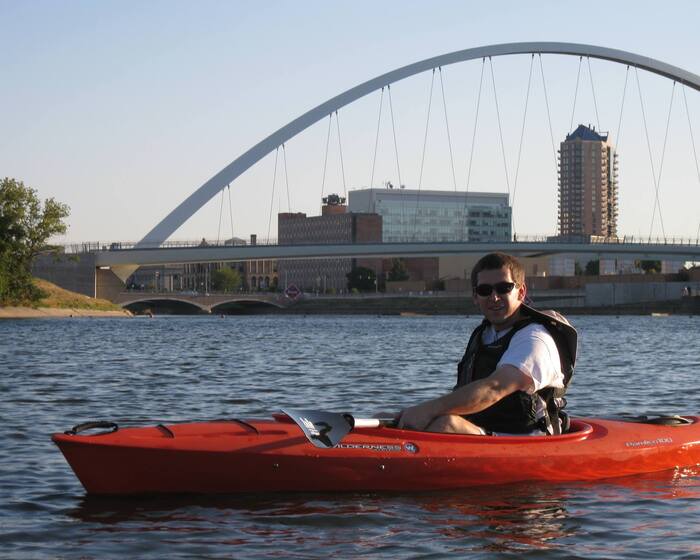 When Aaron is not at the office or on stage, he tries to get outside to ride his bike on the miles and miles of Des Moines bike paths or take his kayak out on a nearby river or lake. Because quarantining has afforded him so much more free time than usual, Aaron spent the warmer months on his bike exploring trails that he had never pedaled. He biked the entire Neal Smith Trail from Des Moines up to Big Creek State Park and back, which had been a goal of his for a number of years. Aaron also enjoys collecting and playing modern designer board games (you can catch a glimpse of his enviable board game collection in his first DMSO at Home video, originally posted in June).
We can't wait to hear Aaron featured as soloist in our January Live from the Temple concert, Dance, Rhythm, & Blues.