Project Encore, the Des Moines Symphony Academy's one-of-a-kind collaboration with the Boys & Girls Clubs of Central Iowa, provides group violin lessons to students in kindergarten through fourth grade. This unique learning opportunity provides students with access to music instruction and instruments at no cost to their families.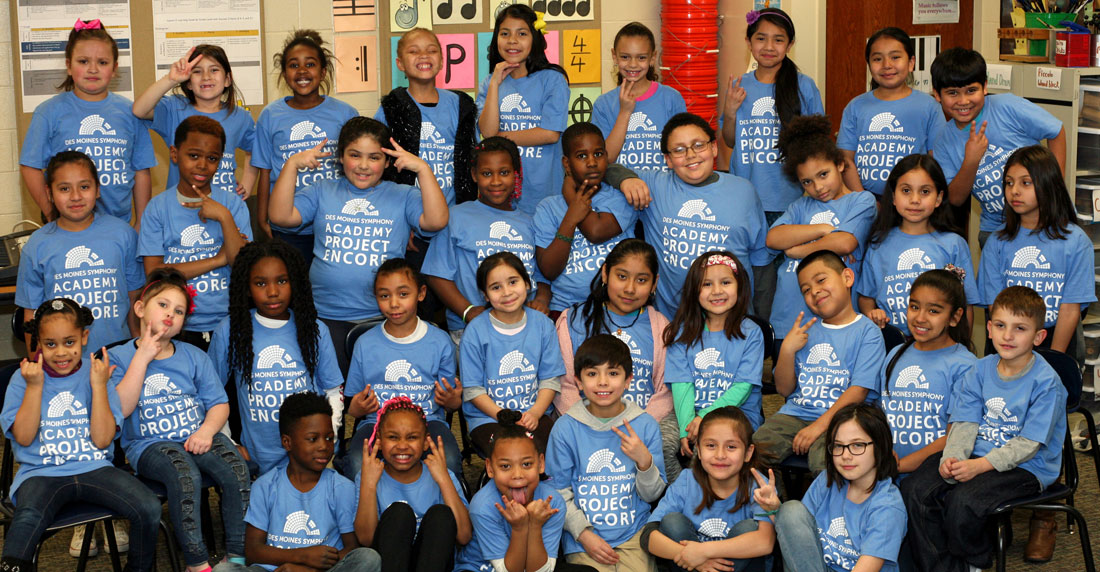 In addition to teaching the fundamentals of music, Project Encore emphasize the core values of respect, hard work, time management and peer collaboration. Project Encore is a transformational opportunity that fosters camaraderie and teamwork, and encourages children to remain dedicated to an achievable goal with through hard work and persistence.
Project Encore strives to enrich its students with the lifelong positive benefits of music education. Evidence shows making music transforms the brain in positive and permanent ways such as strengthening the coordination among areas of the brain that develop emotions and memories. Statistically, music students score higher on standardized test exams and have increased problem solving skills. Music education is linked to improved self-esteem and provides a lifetime of enjoyment and enrichment.
To date, Project Encore has provided over 75 children with group violin lessons at the George Washington Carver Community School thanks to the vision and generosity of Harry Bookey & Pamela Bass-Bookey and Gregory & Suzie Glazer Burt.
For more information about Project Encore, please contact Amanda Drish, Manager of Beginning Strings & Community Connections, at amanda@dmsymphony.org or by phone at 515.280.4000 x4005.